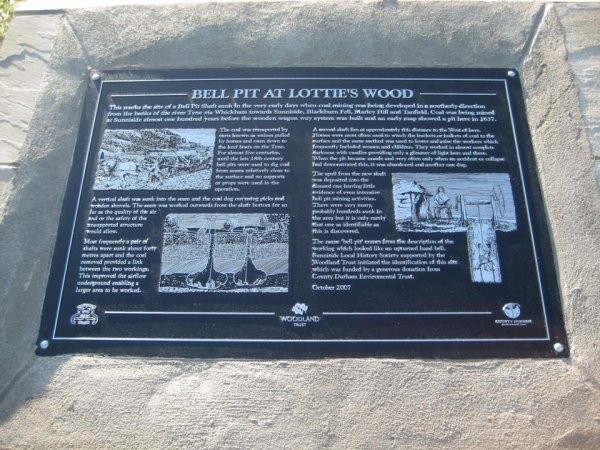 THE UNVEILING ON SATURDAY 6th OCTOBER 2007
Thanks to the Woodlands Trust, County Durham Environmental Trust (CDENT) and the Sunniside History Society, contractual work was carried out on the bell pit discovered by Colin Douglas at Streetgate with the aim of marking it permanently and ensuring that in future years people will have the opportunity to visit the site and learn about bell pits. Pamphlets were distributed which had been created by David Auton.
On Saturday 6th October 2007 2.0pm at an event hosted by Sunniside History Society, a plaque and plinth was unveiled on site by Dave Anderson MP in attendance with Gateshead Mayor & Mayoress David and Susan Lynn, Councillors Alan & Marilyn Ord, Councillor Jonathan Wallace, Lina Beck of Hillside Church, Gary Haley of the Woodlands Trust, Mr & Mrs Rutherford of CDENT, County Archaeologists Miss Jennifer Morrison and Mr Ian Ayris, Officials of Sunniside Social Club and representatives of other organizations including the Libraries and members of Sunniside History Society. BBC television filmed the event for the local news.
Afterwards at Sunniside Social Club a buffet was enjoyed, a film was shown of the evolution of the bell pit project and archive film footage showing the hardships endured by coal miners and their families in the early 20th century. Framed facsimiles of the Bell Pit plaque were presented to the Civic Dignitaries as well as Mr Rutherford of CDENT and The Officials of Sunniside Social Club.