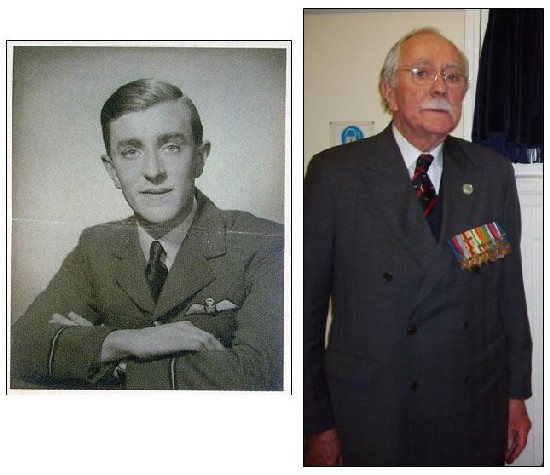 Thomas Bartley Hughes
23rd November 1921 - 31st December 2010
Born in 1922 in Rugby, Warwickshire, Tom Hughes (pictured above during WW2 and in February 2007) attended the town's famous school as a day pupil. Aged 18 in 1940, he joined the RAF Volunteer Reserve as a pilot and started his flying training on DH Tiger Moths at 7 Elementary Flying Training School at Desford, Leics, that October. There he flew in a mix of civilian and service-registered machines for 38 hours before moving on to 8 Flying Training School at Montrose, Scotland, to fly Miles Masters for a further 72 hours.
Assessed as 'above average', Tom was posted to the Central Flying School at Upavon, Wilts, joining 82 (23 War) Flying Instructors Course on Airspeed Oxfords and Avro Tutors. After a further 92 hours, and a total of just 202 hours flying, he qualified as a Flying Instructor on June 15,1941. Tom joined 11 Service Flying Training School at Shawbury, Shropshire, in June 1941, flying Oxfords. That October he was posted to the College Flying Training School at Cranwell, Lincs, still flying the Oxford, but in December he moved to the Advanced Flying Unit and started flying Masters as well. In March 1942, he moved to 60 Operational Training Unit at East Fortune, Scotland, and started to fly a wider range of types, including the Bristol Blenheim and Bisley, Beaufighter II, DH Dominie, Fairey Battle and Miles Magister.
In September, he moved to 58 OTU at Grangemouth, Scotland, now with over 900 hours on nine types. Here, after a few trips in a Master, he first flew a Supermarine Spitfire and gained 66 hours on Mkls and Ils. Attaching himself to 6fl (West Lancashire) Squadron at Biggin Hill, Kent, he also managed a couple of trips in a Mk.IX before setting off to Gibraltar to join the Spitfire Erection Party. As an experienced pilot and instructor - albeit with limited time on type - Tom set about air-testing newly-assembled Spitfires and helped to ferry them across the Mediterranean to Maison Blanche and on to Souk-el-Arba, both in Algeria. Tom was posted to 72 Squadron on January 28,1943, and his exploits are contained in the main feature. No.72 Squadron was based at Pachino in Sicily, flying Spitfire IXs in August 1943. On August 19 opposition in Sicily ended and in September Tom was posted to 43 Squadron as commander of'A' Flight, his new unit moving to Falcone, Italy.
On December 18,1943 his luck finally ran out when he was shot down just north of the monastery at Monte Cassino. His Spitfire was brought down by machine-gun fire when he was making a strafing attack. It caught fire and he was too low to bale out. His trousers were burned off his legs below the knees and he hit his head during the crash-landing and remembers little of the crash. His burns were treated by the Germans and then was moved, stretcher-bound from Italy to Germany. He was 'exchanged' in a 1 for 3 scheme with German prisoners, having been assessed by a panel of doctors as requiring repatriation. He then spent four days crossing Germany by train, worried sick that the RAF would find them and shoot them up. From Switzerland he was taken to Marseilles, where he boarded the liner Arundel Castle and sailed past Gibraltar to Liverpool and home, where Tom's father was waiting to greet him on the quayside.
After the war Tom went to Cambridge and did his Mechanical Sciences Tripos before working in design offices for AEI, Hotpoint, Pilkington and Ronson - later becoming a freelance consultant engineer. He did not leave aviation completely, becoming a leading member of the Cambridge University Gliding Club until 1951. He has been an active member of the 72 Squadron Association for many years. In April 1919 American Leslie Irvin hurled himself deliberately out of an aircraft. He was testing the world's first self-deployable parachute. He formed the Irvin Air Chute company (now Irvin Aerospace) Leslie decided that anyone who used an Irvin parachute to leave a stricken aircraft and therefore save their life should become a member of a club. His parachutes used a lot of silk and he decided that the caterpillar was an ideal emblem. In 1922, he decided to award a gold tie pie to club members - getting on for 100,000 have been issued. Leslie Irvin also gave the world the flying jacket that also carries his name
Tom Hughes joined the Caterpillar Club on August 15th 1943. The entry qualification is unusual; all members have to save their lives by parachute. There is no clubhouse but the badge of membership is a little golden Caterpillar with eyes of amethyst.
Sadly Tom died on the 31st December 2010 aged 89 years. He was loved and respected by everyone who knew him and will always be remembered.