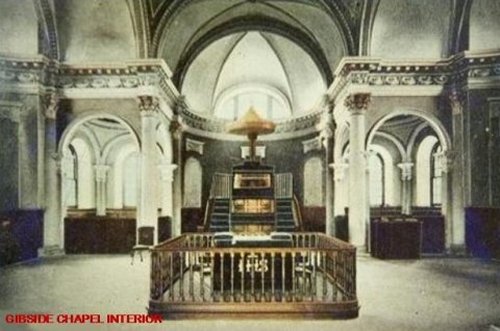 STREATLAM AND GIBSIDE
In 1767 the marriage of Mary Eleanor Bowes, heiress to the Bowes' estates in County Durham, to John Lyon, 9th Earl of Strathmore, merged the interests and estates of an ancient Durham family with those of an equally ancient Scottish house. For the ensuing 50 years the Earls of Strathmore identified themselves with their newly-acquired County Durham estates, an identification symbolised by their change of name from Lyon to Bowes. From 1820 to 1885 this close connection was severed and although in the latter year the Earls of Strathmore re-acquired the estates, they were never again continuously resident in the county.
The Bowes family's connection with the county of Durham had begun in the middle of the fourteenth century with Adam Bowes' acquisition of the lordship of Streatlam in the south of the county and for five centuries the family played a notable role in public life. Adam Bowes, the founder of their fortunes at Streatlam, was Chief Justice and Sir William Bowes in the mid fifteenth century spent 20 years fighting in France. A century later Sir George Bowes was important in maintaining the authority of the crown in the unruly north, and his brother and son were ambassadors to Scotland. Other members of the family gave less spectacular but distinguished service and were active on the borders, as Wardens of the Marches and Treasurers of Berwick, as Sheriffs of Durham and as Members of Parliament.
Until 1713 the basis of the Bowes' influence was the estate and castle of Streatlam, but after that date the acquisition of the Gibside estate gave them an influence in the north of the county and a share in the immense wealth which was to be acquired from the coal trade. It should be remembered that their wealth was made possible by women, children and men working underground in intolerable conditions and for disgracefully long hours. The miners and their families lived in slums, underground disasters were commonplace and hundreds of men, women and children died in the most dreadful of circumstances in the pursuit of the coal owners wealth. This wealth made possible the building of a splendid eighteenth-century mansion at Streatlam and at Gibside, the creation of one of the most spectacular and dramatic landscapes of that century. Coal revenues were also the foundation of the success, through three generations of the family, of the Streatlam stud which reached the height of its fortunes in the breeding of four Derby winners between 1835 and 1853. The revenues also gave scope for the artistic interests of George and John Bowes; and the latter's art collection preserved in the Bowes Museum, forms perhaps the best-known memorial to the family in the county.
The Bowes family, after a long and illustrious history, reached its greatest wealth and influence in the eighteenth century, with the last of its judicious marriage alliances. Within a century and a half the descendants of the Bowes were no longer, truly, a County Durham family and the twentieth century saw both Streatlam and Gibside in ruins.
GIBSIDE CHRONOLOGY
THE MARLEYS
1200 First document mentioning Gibside. Adam and Gilbert de Marley (tenants) witnessed a charter. Gibside was then owned by the Bishop of Durham, but the Marley's did not live there.
1325 Lease mentions fulling mill and corn mill on the Derwent.
1333-45 Gibside held by the Marley family of the See of Durham by "homage, fealty, suit of court, and one mark (13/4) exchequer rent."
1384 Estate inherited by Alice de Masham, who reverted the estate back to the Marley family.
1415 Alice died, and was followed in turn by five male Marley descendants - Robert, William, William, John and Roger.
1428 First mention denoting residence at Gibside. "Robert Marley of Gibset leased his fulling mill".
1540 Richard Marley died leaving an only daughter Elizabeth as his heiress. She had married Roger Blakiston of Coxhoe and thus Gibside became Blakiston property. It passed to Roger and Elizabeth's son William, and he left it to his nephew William.
THE BLAKISTONS 1540 - 1713
1603 Construction of the new Hall begun by nephew William Blakiston. ( Later in 1805 when Gibside Hall was being extensively altered, it was discovered that the 1603-1620 building had been built on the site of a previous hall.
1607 Inventory of rooms of Gibside Hall and their contents made. This is still in existence (Durham County Record Office) and makes fascinating reading. The William Blakiston who built the second Hall was succeeded by his son Ralph, who was created a baronet by Charles I. Sir Ralph was succeeded by Sir William who was succeeded by his brother Francis.
1703 "The Great Storm" of November 26th. Damage to property in the North was immense. Gibside Hall lost almost all of its grey slate roof and hundreds of trees were uprooted.
1713 Sir Francis Blakiston died, leaving an only daughter Elizabeth who had married Sir William Bowes of Streatlam in 1694. The estate now became Bowes' property. Gibside was deserted in favour of Streatlam by Sir William and his eldest son, until his younger son came into both estates in 1721.
THE BOWES AND BOWES-LYONS 1713 - 1973
1721 George Bowes, although being the youngest son, inherited the estates in 1721, on the deaths of his elder brothers. He fell in love with Gibside and spent much care and money on developing and landscaping the estate. He was a man of many interests, rich and influential and was for some years M.P. for Durham. Much of his wealth came from the coal which lay beneath his estates and in 1726 he helped form the Grand Alliance of coal owners to control the profitable London coal trade. This Grand Alliance was also instrumental in building the Causey Arch for the easier transportation of coal from the pits in the Tanfield area to the River Tyne. He was also interested in Sir Ambrose Crowley's iron works at Winlaton, which his father had helped to finance. He introduced fox hunting into County Durham in 1738 and also bred successful racehorses at Streatlam.
1724 George Bowes married the fourteen year old Eleanor Verney in October, but she died the following year.
1729 He started his landscaping plans by planting the steep ravines. Work on the estate continued for the rest of his life.
1747 His second marriage to Mary Gilbert of St. Paul's Walden in Hertfordshire. He gained more land and property from this marriage. Work began on the Terrace in front of the Hall.
1749 A daughter born, named Mary Eleanor, (Mary after his second wife and Eleanor, after his first wife.)
1747-1760 A north wing added to the Hall in same Jacobean style. New buildings were planned in the Palladium style of architecture. James Paine designed a Mausoleum Chapel to hold George Bowes' body after his death. Classical Stables were completed in 1760. The Column of Liberty was built from 1750 - 1757, but the Chapel was not started until 1760. The column is 140 ft. high and when it was built was the tallest building outside London. The figure of British Liberty on the top is 12ft. high, and is that of a lady with an inverted cup in her hand. The figure was carved on top of the column from a boulder obtained from a quarry at Crookgate, Burnopfield. The sculptor's name was Richardson and he was paid £40 for the work. The Column and its scaffolding miraculously escaped the hurricane of 1756 which did a lot of damage on the estate. A Banqueting House was built in the florid Gothic style overlooking the Lily pond, but was not used until after George Bowes death in 1760. An Orangery was also built and used for growing tropical plants and fruits.
1760 George Bowes died and was buried at Whickham. The estates and a fortune of more than a million pounds were left to his daughter, Mary Eleanor. She was eleven years old when her father died.
1760-1776 Mary Eleanor had a wide and thorough education and lived a life of luxury. Her father had doted on her and in no small measure, spoiled her. Being the heiress to such a large fortune, as she grew up she was naturally much sought after and courted. After a series of flirtations, she married the ninth Earl of Strathmore on February 24th 1767, her 18th birthday. Mary Eleanor's mother never favoured the marriage and in many ways Mary Eleanor and the Ninth Earl of Strathmore were mismatched. Her husband had by the terms of George Bowes' will to take the name of Bowes. The Strathmore family name was Lyon, and at first the name Lyon-Bowes was assumed, but this was later changed to Bowes-Lyon. The marriage produced five children but was not a success. In 1776 Lord Strathmore died on board a ship while returning from Lisbon where he had been seeking a cure for his illness.
1777-1790 After the death of her husband. Mary Eleanor left her children in the care of governesses, and went to her London house. Because of her wealth and position, she was quickly surrounded by so-called admirers. She became involved with a man called Gray and was expecting a child by him. At this point in her life, a former Irish Lieutenant named Andrew Robinson Stoney came on the scene. He had been married to a Burnopfield lady named Hannah Newton who had died at Colepike Hall, Lanchester, where she and Stoney had lived. It was common knowledge that her death had been due to Stoney's ill treatment of her. Eventually, after a series of underhand manoeuvres, Stoney tricked the unfortunate Countess into marriage. He too, had to assume the name of Bowes and he became notorious as 'Stoney Bowes.' The story of this marriage is well documented and a detailed account of it is to be found in Ralph Arnold's "The Unhappy Countess", (Constable 1957). Because of Stoney's scandalous behaviour, and shocking treatment of the Countess which became a subject of national interest, she eventually managed to divorce him in 1789. Afterwards she became reconciled to her children and lived in quiet retirement near Portsmouth until her death in 1800. She was buried in Westminster Abbey. Stoney spent the rest of his life in a debtor's prison still trying to get his hands on the Strathmore money. He did not succeed, he died in prison in 1810 and was buried in St. George's Church. During Mary Eleanor's tenure, Gibside was not fully used. In 1770, her coming of age feast was held there. During her marriage to Stoney Bowes, he had used Gibside as a hiding place from his creditors. It was also useful for entertaining, his many mistresses and also when campaigning to become M.P. for Newcastle, to obtain money for his election campaign, he ordered many fine trees in Gibside to be felled. Always in debt, it was thanks to him that the phrase 'Stoney broke' was coined.
1790-1820 In 1790. Mary Eleanor's eldest son John, now 10th Earl of Strathmore, purchased his mother's life interest in Gibside. Like his grandfather, George Bowes, he loved Gibside and employed John Dobson to remove the third storey of the Hall in 1805 and adorn the South Front with a high battle mounted parapet pierced with huge crosses. He reconstructed the original Jacobean Porch and restored the inscriptions and arms facsimiles. He also added a plain wing for an office block. The Chapel was completed in 1812 and dedicated. George Bowes' body was then removed from Whickham and placed in the crypt.
The Tenth Earl also replanted woods which had been destroyed by Stoney. The Tenth Earl's private life was complicated, he fell in love with the rather wild Lady Tyrconnel, a member of the 'Gay Delaval' family of Delaval Hall. She died of consumption while staying at Gibside, causing a scandal which was widely reported in the Northern newspapers of that time. It was during this upset in his life that he completed the building of the Chapel and partly rebuilt the Hall. While staying at a Hunting Lodge near the family home at Streatlam, a servant girl, named Mary Milner attracted his attention. She was the daughter of a local gardener, totally uneducated by Society's standards. He set her up in a house in London and lived with her there for some years. In 1811 she bore him a son whom they named him John Milner Bowes. John, the Tenth Earl was very fond of his son, settling a large sum of money on him, and arranging for his education. In 1820, the Earl. who was a sick man at that time, decided to marry Mary Milner, a very noble and brave thing to do considering their perceived difference in class. Because of his illness, special arrangements had to be made, the Earl having to be supported during the ceremony. On the day after the wedding the Earl died. Claims were made, on behalf of the boy for him to inherit the title and the estates. The Tenth Earl, however had a younger brother Thomas, who also claimed the title and estates. After lengthy legal proceedings it was finally decided that the boy should have all the English property on his coming of age in 1832 and that Thomas become the Eleventh Earl and inherit all the Scottish property.
1820-1832 Mary Milner, now Dowager Countess of Strathmore, lived at Gibside and eventually married again in 1831. Her second husband was Mr William (later Sir William) Hutt, who had been her son's (John Bowes') tutor. She was 44 and William Hutt 24. Hutt was M.P. for Hull from 1832- 1841 and M.P. for Gateshead from 1841-1874. He was knighted in 1865 and later became an important figure in politics. Mr Gladstone and Lord John Russell were guests at Gibside. In 1860 the Dowager Countess of Strathmore, (the former Mary Milner), died and her body was placed in the crypt under Gibside Chapel beside that of her first husband, the Tenth Earl of Strathmore. Sir William Hutt continued to live at Gibside until 1875. He later married again and went to live in the Isle of Wight.
1832-1885 Gibside was owned by John Bowes, but not used permanently. In 1854 he married a French lady, Josephine Benoite, Countess of Montalbo. She was an actress and an artist and they spent a great deal of their time in France, but he did bring his wife to Gibside occasionally on visits. (The life of John Bowes is dealt with fully in Charles Hardy's book, "John Bowes and the Bowes Museum". During their marriage they bought many paintings and Objets d'Art, intending to build a Museum in Calais. Because of the unsettled state in France however, plans were changed and a site was chosen in 1864 near Barnard Castle. Foundations were laid in 1869. Josephine was much younger than her husband and thought that she would outlive him, .so a pent-house was planned to be built on top of the museum where she would live and be in charge of the development of the project after John's death. However, in 1874, Josephine died and her body was placed in the crypt at Gibside. John Bowes arranged that a wreath of flowers should regularly placed on her coffin. In 1875 the foundations of a Catholic Chapel in Bowes Museum Park were laid. This was eventually to be the last resting place of Josephine (who was a Catholic) and her husband. The Chapel was partly built, but objections were raised by some trustees of the Museum and building was stopped. It wasn't until 1927 that the partly built Chapel was pulled down and re-built outside the grounds of the Museum.
In 1877 John Bowes married again. His second wife was named Alphonsine, another French lady, This marriage was not a success and ended in separation.
1885 The death of John Bowes, he was buried in the crypt next to his wife, Josephine. Having no children, on his death, all the English estates reverted to the Earls of Strathmore the Bowes-Lyon family.
1889 Plan to turn Gibside into an Hydropathic Establishment.
1908 Hall rented to Mr Victor Crunhut, Gateshead solicitor.
1914--18 Land Army Girls billeted in servants' quarters.
1920 The Hall was dismantled, everything of value was removed to Glamis Castle, the seat of the Earls of Strathmore in Scotland.
1928 The bodies of John and Josephine Bowes were taken from Gibside in the early hours of the morning and interred under a marble slab in the precincts of the completed Catholic Chapel near the Bowes' Museum. There was no religious ceremony.
1930-39 Woods felled.
1936 Visit of Duchess of York (formerly Lady Elizabeth Bowes-Lyon, who became the Queen Mother).
1954 Forestry Commission Leases signed.
1964 The Queen Mother visits Chapel privately.
1966 Chapel restored and handed over to the National Trust, the Queen Mother attended the special service.
1968 The Queen Mother visits Gibside Chapel for the last time.