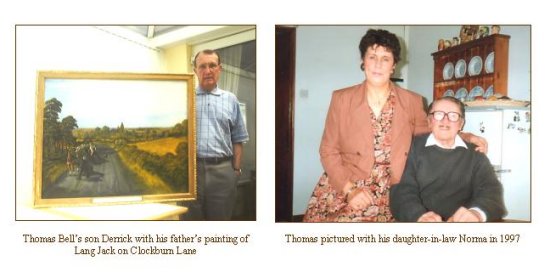 Thomas Bell
It was thanks to Derrick Bell contacting our History Society that the story of his father the late Thomas Bell, artist, poet, sculptor and musician evolved. Derrick is pictured above displaying one of his father's paintings, depicting Lang Jack English displaying his legendary strength and bad temper. The painting has been donated to Whickham Library where it is on permanent display. Derricks wife Norma is pictured with her father-in- law Thomas in 1997, the year of his death.
Thomas Bell
Thomas was born at Chapel Avenue Dunston in 1915, one of four children, brother's George, Dick and sister Hilda, he was educated at Dunston Church School. He discovered at an early age that he had artistic talent, unfortunately the family couldn't afford to buy him the necessary materials to pursue his artistic aspirations seriously. In keeping with most families in those days they were rather impoverished. His mother made ginger beer in a small outhouse and sold it to neighbours to help support the family, she also displayed an artistic talent, painting beautiful flowers on the floor because they couldn't afford new lino.
Fortunately Tom didn't abandon his undoubted talent, probably inherited from his mother, he continued to sketch and paint using whatever materials at hand. He married Florence Thornton on Boxing Day, the 26th December 1935 and they had two sons Derrick and Carlos. Tom was eventually employed by Raines & Company Delta Steel Works, he remained there for 33 years. He then worked as a Turbine Attendant at Dunston B Power Station and remained there until failing eyesight necessitated his early retirement. Unfortunately he had suffered from the disease glaucoma for several years, the disease robbed him of the sight in his left eye and his sight gradually deteriorated in the other eye during the 1960's. Tragically by the 1980's Tom had lost his sight altogether.
Throughout his life Tom loved to paint and write, even though in later years he would have to use a magnifying glass to continue his hobby. His choice of subjects were diverse, he used his imagination and painted portraits of fishermen, horsemen and hounds, tropical scenes, Spanish courtyards and a middle class family at leisure, depicting their more opulent life style. He even painted the famous 'Last Supper' on a hard boiled egg as an Easter gift. He sketched a range of Dunston buildings and scenes, among them Christ Church (where he had married Florence), the Collingwood Hotel, the Wooden Barbers shop, Bute Hall, the Store buildings, Cement Buildings, Chancellor Club, Old Albert Cinema and the one man ferry on the Tyne. In later years his sketches would be the only existing image of some of those buildings.
His talent knew no bounds, in 1968 one of his sons bet him that he wouldn't be able to paint a masterpiece like Da Vinci's 'Mona Lisa'. Tom bought a canvas for 30/- (£1 50p) he normally painted on a piece of hardboard. In just 4 weeks he produced an excellent full size portrait even though he had used oil paints for just a short period of time. The portrait now hangs in the home of Derrick and Norma's son Leo. Tom also contributed greatly to our local history by producing an oil painting almost three feet square featuring a local folk lore character, Lang Jack (John English). Jack had a ferocious temper and when a horse and cart full of stones killed his dog he tipped them over into a ditch. Tom captured the event perfectly even featuring Jacks cottage in the background at Woodhouse Lane Fellside. The portrait hung for some years in a local hotel and thanks to Tom's son's Derrick and Carlos it will now find a final resting place in Whickham Library to be enjoyed by the community. Carlos managed to retrieve other oil paintings of his father's, which had hung on display in the Royal Hotel at Dunston. Tom's mother was very pretty and was of a dark complexion, he often joked that she was of Maori descent and painted her portrait depicting her as just that, a Maori maiden .
Tom was a committed Christian and also a talented sculptor, his sculpture of Madonna and Child was very much admired and was donated to St Mary's Catholic Church at Whickham. His sculpture of Christ was presented to the Vicar at Swalwell. His portrait of the face of Christ was donated to the Chapel at Dunston Hill Hospital.
Although known locally as an artist, Tom also loved poetry and displayed a great talent for writing. He wrote a range of poems, Farewell the Old Dunston B, The Old Swalwellers, The Vagabond, The Wind at Night, The Atheist, Powder Puff Sally, The Things God Gave Us, The Toy Soldier, The Swallows, The Sweetest Lie One Christmas, Summer Morning and Remembering Old Whickham. He became a V.I.P. member of the International Poets Society.
The poems were published by Readers Digest in the United States of America and by a company named Starladen. They were so taken with Toms poems that they sent his son Derrick and daughter in law Norma a complimentary copy of the book and two of the poems, The Wind At Night and The Toy Soldier mounted on beautiful oak bases.
Incredibly Tom never received a painting or drawing lesson in his life, his was a natural God given talent. His portraits were displayed in several local exhibitions including the Art Centre at the D.L.I. Museum in Durham city. He was also a very talented musician, he could play any musical instrument within minutes of picking it up.
Sadly his wife Florence died in 1982 and Tom spent his final years living with his son Derrick and his wife Norma. Thomas reached the age of 82 years, he died in September 1997.
Thomas Bell produced some exceptionally fine works of art and also displayed a talent for writing poetry. His work compared favourably with many other artists of note yet he never achieved fame outside of the Northern Region. Through this website the story of Thomas Bell and examples of his work will at last be carried across the world, bringing albeit belated, a measure of the fame which he so richly deserved.
The Wind At Night By Thomas Bell
As I lie in bed at night under blanket and sheet, I listen to the wind as it sweeps the street.
It brushes my window as it passes by, leaving behind its weary sigh.
Somewhere a dog barks the night is late, because the wind has rattled a garden gate.
Like the voices of loved ones long since gone, it whispers there memories and travels on.
It travels on like a thief in the night, sweeping waste paper and leaves in flight.
It sweeps the fields and stirs the trees, the lonely wind that no one sees.
It sweeps the roof tops, leaves fences torn and fades away at the break of dawn.